We love Loose parts in our Childcare Centre. Loose parts is basically items that can be moved, redesigned, put together and taken apart in a variety of ways. Children use loose parts to create endless possibilities and invite all kinds of provocations. The "theory of Loose parts" was created in 19271 by Simon Nicolson.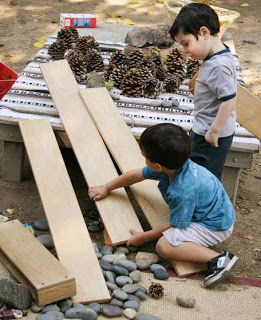 Loose parts can be made up of natural or man-made materials, some examples are:
Bricks
Tree stumps
Pipes
Stones
Branches/twigs
Tyers
Pots & Pans
Material
The list can be endless, loose parts can be used inside or outside. Loose parts also sit really well into National Quality Standards, as they are a great way to bring more natural resources into your centre both indoors and outdoors, it is also a great way of incorporating and embedding Reuse / Recycling into your programs. Below are some great images to give you inspiration
From the blog of "Let the children play" Jenny gives us great reason on why we should use loose parts
There are many reasons why play spaces should include a multitude of loose parts, including:
Loose parts can be used anyway children choose.
Loose parts can be adapted and manipulated in many ways.
Loose parts encourage creativity and imagination.
Loose parts develop more skill and competence than most modern plastic toys
Loose parts can be used in many different ways
Loose parts can be used in combination with other materials to support imagination
Loose parts encourage open ended learning.
Children choose loose parts over fancy toys.
Pinterest is a great resource for ideas, here is one great pinterest page with lots of ideas of loose parts on it. http://pinterest.com/booknblues/loose-parts/
We would love families to be invloved in our loose parts play, if you have anything that you think would add to our environment please do no hesitate to let us know.
webandprint
/apple-2/wp-content/uploads/2016/10/apple-logo-300x168.png
webandprint
2016-01-20 06:55:10
2016-01-20 06:55:10
Loose Parts