Sustainable Practices at Coburg
What an inspiring day Kylie and I had at Coburg Children's Centre on Saturday. We were instantly drawn to their outdoor environment, which was appealing and engaging for us as adults, I can only imagine how enthusiastic little people would view the same play spaces.
The reason Kylie and I went was to find out more about their sustainable practices, as they had recently been rated as 'Exceeding' the National Quality Standard. We wanted to see how we can improve our practices at Apple Blossoms. So what started as a "Fact Finding Mission" for sustainability, ended up altering our entire outlook on how a centre is able to operate and celebrate its' local community.
The outdoor area is made up of large established native trees, sensory exploration areas with dirt, sand, mud, bark and wood. The theme of 'Recycle – Reuse' is clear as you make your way around the winding path that makes up their nature-based setting.
Almost 30 years ago when they opened, they began planting small trees, with the hopeful outlook that they would one day create enough shade for the children to play in. Now they have done away with large fabric shade sails, relying solely on the canopy of their trees as a means of cooling their environment during the summer. The same trees contain bird feeders to encourage native birds to come and rest.
It is clear the children are largely involved in the planting and design of the fruit and vegetable gardens. There are ample watering cans, where the children have access to tank water to tend to their gardens. Along with a supply of gumboots for the children to change in to as they check out the digging patch.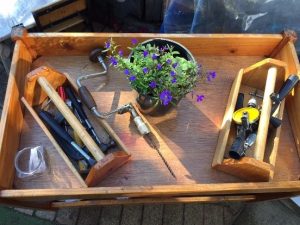 One thing that really stood out to Kylie and I was the use of real, everyday tools and equipment that the children have access to. There are rakes, shovels and wood working tools which are exactly the same as they are used to seeing at home. The use of bright coloured, plastic toys is at a minimal, with a Reggio vibe filtering throughout the whole centre.
With educators embedding environmentally sustainable practices throughout their everyday tasks and conversations, the children are reminded how their actions can have an effect on the environment. The use of artificial lighting is minimised where possible, there are recycle bins in all the rooms, environmentally friendly cleaning products are used throughout the centre and educators role model and teach children about the preservation of our planet by looking after their immediate environment.
I wanted to share a story that the director of the centre told Kylie and myself.
In 2011 the staff at Coburg Children's Centre were on the hunt for an off-site kinder. A space where they could take the kinder children on excursions and enjoy a session in the open air, with minimal resources. Their aim was to allow for the children's growing appreciation of the environment to unfold and for them to really get in touch with nature. They found the perfect place, with the children walking the 2.5km each way to attend their Bush Kinder. When they first started venturing out to Bush Kinder, the children were drawn to the litter that was strewn throughout the little river they were walking beside. The children spoke with their educators and told them they didn't like it with all the rubbish. The next time they went to Bush Kinder they went prepared. They took gloves, rubbish bags and tongs so they could collect the rubbish. There! Perfect! It was rubbish-free!
The following week when the children were walking to Bush Kinder there was more rubbish in the river. They were disheartened, so they thought some more about what they could do. They decided to make some signs. After all, people read signs and do what the signs say, right?
So the children went about making signs, telling people to 'use the bins' and 'please don't litter'. The following week when they went back, you guessed it, more rubbish. The children asked the educators what could they do now? They wanted to know who was in charge of the river and if they could write them a letter? So that's just what they did.
All 25 children were involved in writing the letter, with the help of the kinder teacher. When they were finished, and ready to post it, they discovered, using a map, that the person they were sending it to (the local Member of Parliament) had his office only a short 10 minute walk away. So the children hand delivered the letter to him themselves. All 25 children (along with their educators and parent helpers) walked to the office of their local Member of Parliament and had a meeting with him. He said this was the most amount of people he had EVER had around his conference table, so he knew it was an issue that was very important to the community. He asked the children what he could do? After some consideration it was decided they should have a 'Community Clean Up Day'. It was advertised in their local area with businesses and community groups all signing up.
The day came and the turnout was amazing. Children from the centre, along with their families, educators, small business owners, council members and community groups turned up on mass to clean up their neighbourhood.
This is now an annual event, but the children keep a close eye on their river every week as they walk to Bush Kinder. They are always prepared with gloves, tongs and bags to collects the rubbish.
This world we are leaving to our children and our grandchildren is an amazing and inspiring place. We need to ensure our children's voices are heard. We need to provide them with the knowledge and allow them time to develop a great appreciation for our planet with all its beauty.
WE are the facilitators of this movement. We are the people they look up to. We need to show them we love them so much that we are prepared to look after their environment so that one day they can share it with their children and grandchildren.
/apple-2/wp-content/uploads/2016/10/apple-logo-300x168.png
0
0
webandprint
/apple-2/wp-content/uploads/2016/10/apple-logo-300x168.png
webandprint
2016-02-20 06:51:58
2016-02-20 06:51:58
Sustainable Practices